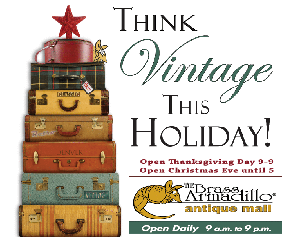 Santa may be hard at work, but he isn't the only one preparing. The Brass Armadillo loves the Holidays.
Many consumers find gift shopping to be increasingly difficult. Let the Brass Armadillo change that. We have thousands of unique gifts at very affordable prices.
Decorating for the holidays is another reason for a trip to the Brass Armadillo Antique Mall. Vintage holiday decoration items give a warm glow to your holidays. The best thing about the holidays is spending quality time with family with a backdrop of items that remind you of your past.
Watch our mall's Facebook pages for more holiday decorating ideas. The links are at the end of this message.
FREE pictures with Santa! Get ready to skip the long lines at the mall. Check our events calendar for the dates and times. Can you use your own camera? Yes! Click away.
On Thanksgiving, we kick off our holiday events.  We are open 9am till 9pm, every day. On Christmas Eve, we close at 5pm, then closed on Christmas Day.
On our Thanksgiving weekend sale event, you'll save $5 for every $50 you spend. Visit the Brass Armadillo to get a jump start on your holiday shopping. Gift giving has never been so easy. (Thursday, November 23 through Sunday, November 26)
December 8, 9 & 10 is another sale weekend (Friday, Saturday & Sunday) you'll save 15% off EVERYTHING in the mall. Watch the calendar, you're down to just a couple weeks till Christmas.
Open every day from 9am till 9pm, the Brass Armadillo has the gift ideas for everyone on your list.
Saturday, December 16th is one of our biggest sale days of the year. 20% off EVERYTHING. Christmas is right around the corner. Save BIG on this day!
Each of the six Brass Armadillo locations is a large marketplace of things retro, vintage, antique and collectible. Remember the stuff from your past, we probably have it.
Visit the links below for more information on our holiday and vintage Christmas decorations for sale:
Thank you for using one of the buttons below to share our information: