From vintage jewelry to old fishing tackle, you'll find just the Christmas gifts for antique lovers you're looking for at the Brass Armadillo Antique Mall.
Meaningful Christmas vintage gift ideas for antique lovers are our specialty, no matter your price range.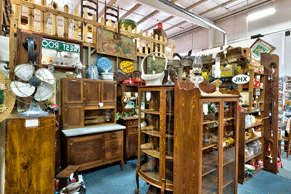 We have antique Christmas gifts for everyone.
With hundreds of vendors in each of our malls, you'll find memorabilia from sports, advertising, kitchenware, porcelains and much, much more.
Looking for home decor with that vintage flare?  We have it.  Furniture too!
The Brass Armadillo is open daily 9am till  9pm; closing at 5pm on Christmas Eve.
On Saturday, December 22, 2018 take 20% off all items in the mall.
You can also get Brass Armadillo gift cards! For more information on each of our malls, visit our page for our Brass Armadillo Antique Mall locations.