As we at the Brass Armadillo look back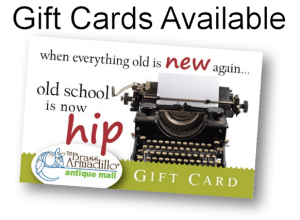 over 2017, we remember with sincere gratitude our friendly and faithful customers. Customers like you.
This year has brought so many new friends. We hope you find the Brass Armadillo, the Ultimate Vintage Shopping Adventure.
Showcasing items from yesteryear has made us a pleasant and relaxing visit for shoppers of every age. While "antiques" is in our name, we offer nostalgia for any age range. We literally have something for everyone, even
Brass Armadillo gift cards
.
May the beauty and joys of the season stay with you during the whole year. We send you best wishes for happiness, health and prosperity throughout 2018.
The Brass Armadillo Family Thanks You