The best of turkeys roasts in your oven for serving on a vintage "Native American" patterned platter featuring a standing cock and hen. You've rounded out your menu with series of delectable sides that include all the traditional favorites—mashed potatoes, green beans, roasted sweet potatoes, stuffing and cranberry sauce. And then there's the pumpkin pie!
If your pumpkin pie started with commercially canned pumpkin, then it is really a squash pie.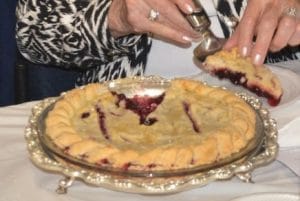 The devil, you say. The devil in this case has little to do with the long-running scientific dispute over what constitutes a real pumpkin and what constitutes a real pumpkin pie. News sources from the online cookbook, Epicurious to The Atlantic Monthly have taken a stab at the great pumpkin debate with more enthusiasm than Linus.
Without question and by admission, Libby's 100 percent pumpkin puree actually comes from a squash known as the Dickinson Pumpkin. Dickinsons, despite their name, are tan-colored squashes and oblong rather than roundish in shape. This breed of squash won over commercial canners such as Libby's, because bright orange jack-o-lantern pumpkins are stringy in texture and often void of palatability.
Employed primarily during Halloween festivities, these great pumpkins do NOT make great pies for the same reasons you don't want to eat the largest squash at the state fair. Woody, stringy and dry.
If after learning about the pumpkin-squash ruse, you want only an authentic pumpkin pie with real pumpkin for your vintage pie plate, here's what you do: Buy small pie pumpkins, also known as sugar pumpkins. Most grocery stores actually label pie pumpkins as such, and they typically measure 20 inches or so in circumference.
Below is a classic, traditional pumpkin pie recipe with real pumpkin that will do your vintage pie plate proud.
1 cup firmly packed dark brown sugar
¼ cup of real maple syrup
1 Tbs. cornstarch
½ tsp. salt
1½ tsp. ground cinnamon
½ tsp. ground ginger
¼ tsp. freshly grated nutmeg
1/8 tsp. ground cloves
2 cups pumpkin puree
3 eggs lightly beaten
1 cup heavy cream
½  cup milk or half & half
Crust
1 cup of flour
¼ cup cake flour
1 tbsp sugar
¼ cup cold unsalted butter
¼ cup cold rendered lard
3 tbsp cold water
Sift dry ingredients and then in cut butter until mixture has the consistency of cornmeal. Move mixture to one side of the bowl and using a fork, rake about one-sixth of the dry-lard mixture into the other half. Add one tablespoon of cold water and combine. Repeat with each tablespoon of cold water. Take dough and make a ball, wrap in wax paper and refrigerate while preparing the pumpkin.