Every summer at the Iowa State Fair, the Brass Armadillo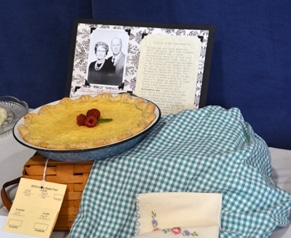 Antique Mall hosts the "Nostalgic Comfort Food Contest." The contest embraces traditional and vintage Thanksgiving recipes showcased in vintage dishes with names such as Chicken (or Turkey) Supreme, Overnight Salad, Fluffy White Rolls and Old Thyme Buttermilk Pie.
"This was my first year to serve as a judge, and there were more than 40 entries submitted in dessert, main course and side dish," said Tyler Eason, general manager at the Des Moines Brass Armadillo. "It was like Thanksgiving dinner times 10."
The Brass Armadillo started the contest in 2010 at the Iowa State Fair. The prize money is one of the best at the fair, which brings out some of Iowa's best cooks. Winners not only share delicious recipes, they present their entries in antique dishes and vintage displays. But the pièce de résistance is the story participants attach to their old-fashioned Thanksgiving recipes.
"Nostalgia is a big part of what attracts people to retro furniture, vintage clothing and antique dishes and cookware," explains Dave Briddle, co-founder and vice president of the Brass Armadillo. "The only thing more popular than shows about antiquing and collecting are shows about competitive cooking. Our contest blends the two together; a sort of Chopped meets the American Pickers."
******
Below are a few traditional Thanksgiving recipes you might add to your feast.
Cristen Clark of Runnells, for example, won the overall prize in 2013 as well as first place in the side dish class with Fluffy White Rolls. She described the rolls as "my ultimate comfort food. The smell of yeast breads in my Grandma Madeline's home was intoxicating to me when I was little… My favorite thing in addition to eating these breads was to try on all of her turquoise rings when she was kneading dough because she'd set them on the counter." Cristen's recipe follows:
4 ½ tsp. instant yeast
¼ cup warm water (115 degrees)
1 tsp. honey
5 cups King Arthur unbleached flour
¾ cup creamy mashed potatoes
¼ cup Baker's Special Dry Milk
¼ cup sugar
2 tsp. salt
4 tbsp. unsalted butter softened
1 ¼ cup warm buttermilk
Proof yeast in ¼ cup of warm water with honey until creamy. Combine all of the dough ingredients in a stand mixer or in a bowl and combine until smooth dough forms. Knead in mixer or by hand for 10 minutes
Place dough in greased bowl and cover with greased plastic wrap and set in warm, draft-free area to double in bulk.
Gently deflate the dough and transfer to a lightly greased work surface.
Divide the dough into 18 pieces. Roll them into balls with your palm on top of the dough in a circular motion against the oiled work surface.
Lightly butter two 8-inch square cake pans. Place 9 rolls in each pan.
Cover the pans with plastic and let rise until doubled. In the meantime, preheat oven to 350 degrees and melt 3 tbsp of butter with ¼ tsp of salt. Set mixture aside.
Remove plastic and bake in oven for 22-24 minutes, until golden and 190 degrees internal temperature.
When baked, remove rolls from oven and brush with butter mixture. Turn them out on a cooling rack and serve warm with honey butter.
Honey Butter
1 cup softened butter
1/3 cup honey
1 tsp. cinnamon
Combine ingredients until smooth. Serve on rolls.
In 2016, Bridget Lottman of Norwalk, Iowa, won the side dish class and placed 3rd overall with Great Grandma's Refrigerator Beets. In her story about this four-generation recipe, she recalls a time when her mother and grandmother came to her house with "buckets of beets," so they could teach her how to can. After spending the morning preparing the beets, the trio set the batch to cooking in two giant stock pots. "We sat down to take a break and all three of us fell asleep." They awoke to a purple stove and counter with stray spots of sputter on the walls as well. The beets came out great, she recalls. For this contest, she offered up her beets in 3 vintage quart-size jars in a vintage wire carrier. "Now you can buy beets all year-round, so there is no excuse that we can't have a jar in the fridge at all times." Bridget's great grandmother's recipe follows:
12 beets
2 cups cider vinegar
2 cups water
2 cups sugar
1 tsp cinnamon
½ tsp cloves
½ allspice
3 quart-size jars with lids
Wash and clean beets. Do NOT cut off the ends. Just remove the leaves and leave about an inch of the stems.
In a large pan, cover beets with water and bring to boil. Cook until beets are tender 45-60 minutes, depending on the size. Test just like a potato; knife should cut through easily.
When beets are done, remove from water.
Rinse pan and next six ingredients. Bring to simmer.
When beets are cool enough to handle, cut off ends and slip off the skins. Cut into bite size pieces and place in clean jars.
Pour simmering vinegar and spice mixture over beets. Seal and refrigerate at least three days before serving.
In 2018, Chicken Supreme by Marianne Carlson of Jefferson, Iowa, won 1st place in the main dish class and took second in the overall competition. Marianne received the recipe from her farm wife mother who raised chickens along with fresh herbs such as sage.
"One of my favorite suppers was when mom would make Chicken Supreme.  She would boil up an old hen and pick the meat off the bones.  That tender, juicy chicken and flavorful broth were perfect for this recipe.  We always had fresh sage in the garden and mom would pick and dry the sage in the fall.  The flavor of sage is so tasty!  It makes me think of Thanksgiving and eating dressing with the turkey.  Mom would often make dressing to go with roast chicken, too.  Chicken Supreme is like eating turkey dressing with the meat in it."
4 c cooked chicken, diced
4 c chicken broth
1 can cream of mushroom soup
8 c white bread cubes
1 ½ t sage, crumbled
1/3 c melted butter
1 t salt
¾ c diced onion
½ t pepper
2 c diced celery
6 eggs, beaten
1 t baking powder
Place bread cubes on a large baking sheet and toast in a 350° oven until browned.  In a large skillet, melt butter; add celery and onion; slowly cooking until tender.  In a large bowl, combine broth, soup, sage, salt, pepper, eggs and baking powder.  Add onion and celery mixture, then add the chicken.  Gently fold in the toasted bread cubes.  Pour mixture into a greased 9"x13" pan and bake at 350° for 1 ½ hours.
OLD THYME BUTTERMILK PIE
Buttermilk Pie isn't your typical 21st century dessert. There's no chocolate or nuts. All the same, Patty Hummel of Allison, Iowa, stole the show in 2014 with this award-winning pie. Her display included an antique pie plate with a photo of her grandparents and the handwritten recipe card in her grandmother's hand. The traditional Thanksgiving recipe is below.
1 ¾ c sugar                                        3 eggs
3 T flour                                             1 c buttermilk
½ c softened butter                       dash of salt
1 ½ t almond extract                     1 unbaked 9" pie shell
Cream sugar, flour, and butter.  Beat in flavoring, eggs, buttermilk, and salt.  Pour into crust.  Bake: 425° for 15 minutes.  Reduce heat to 350° bake an additional 35-40 minutes.
BEST PIE CRUST = 4 Shells
3 c flour                                             1 egg
2 T sugar                                            1 T vinegar
1 ¼ c lard                                           1 t vanilla extract
6-8 T cold water
Mix flour and sugar.  Cut lard into mixture with pastry blender.  Use a fork to stir in egg, vinegar, and vanilla.  Add cold water and stir until dough forms a ball.  Refrigerate.
For baked shell – prick sides and bottom.  Bake at 475°  8-10 minutes.