We all know that LPs are a popular collectible.  Many of our malls sell dozens of antique vinyl records every day.  Classic Rock, Country, Soul, R & B; collectors are on the hunt.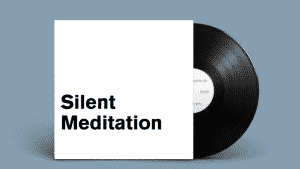 Recently, a guy from California  has a Kickstarter funding campaign to produce a 12" vinyl record with 20 minutes of meditation on each side.
Here's the funny part: each side has 20 minutes of pure silence.  There's no narration or sound, no chimes at the end, nothing, at all.  Just 20 minutes of complete quietness.
Here's some quotes from their Kickstarter page:
"this does not require a record player to be fully enjoyed. Technically, it doesn't even require this record."
"This a serious project, and in its seriousness we also hope it creates some levity. The record is a reminder that silence is valuable, and it can be enjoyed."
"At 45 RPM you can access the hidden feature, a shorter 15-minute meditation."
They describe the 12" silent record as printed on 140g translucent vinyl.
As of this blog date, they have 134 backers pledging $3,740.